Saz Bolus (Albendazole Bolus )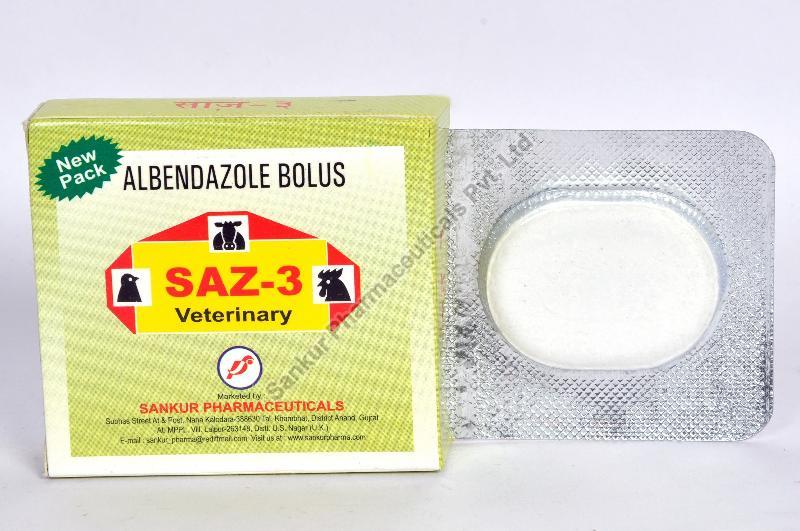 | | |
| --- | --- |
| Business Type | Manufacturer, Exporter, Supplier |
Known for using latest technology, our manufacturing team precisely composes Saz Bolus in conformity of all defined medical standards. Used against Gastro intestinal worms, Lung worms and Tape worms, Saz Bolus is available in high grade packaging. We have earned a good reputation as a trusted Manufacturer, Exporter and Supplier of reasonable priced Saz Bolus.
Activity:
Gastrointestinal worms: Bunostomum, Larval and adult stages of Haemonchus, Ostertagia, Chabertia, Trichonstrongylus, Nematodirus, Cooperia, adult stages of Oesophagostomum, Chabertia and Strongyloides.
Lungworms: Dictyocaulus viviparous and D. filaria.
Tapeworms: Moniezia (adults).
Trematodes : Fasciola Hepatica (adult liver fluke).

Indications : Saz bolus – 3gm is a broad-spectrum anthelmintic belonging to the group of benzimidazoles and is indicated for prophylaxis and treatment of infections with a broad range of worms in calves, cattle, goats and sheep and at higher dosage level also against adult stages of liver-fluke.

Dosage :
For oral administration
Calves & Cattle : 1 bolus per 300 kg body weight.
Liver fluke : 1 bolus per 250 kg body weight.

Packing : Available in 1 Bolus pack
Read More...
Details
| | |
| --- | --- |
| Each Bolus Contains | |
| Albendazole I.P | 3000MG |
| Excipients | Q.S |
Looking for "
Saz Bolus (Albendazole Bolus )

" ?